In this video, we discuss three tools for international aviation marketing – including
Creating foreign language pages on your website (or a foreign language website!)
International/multilingual SEO
Social media and other digital advertising.
Why should you consider marketing your product or service internationally?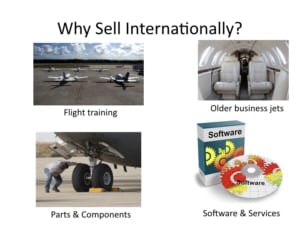 If you are selling flight training, older business jets, parts and components or software and services, you will have some opportunities in places outside the United States.
A couple of examples – flight training organizations may find huge interest for their offerings in certain countries that don't have a large general aviation tradition. They need pilots, and in some cases they want those pilots to be natives, but they don't have enough facilities to train enough pilots to meet demand.
So, they find it's more economical to send pilots to the United States for a few months than to train them at home.
Brokers selling older business jets might find markets that are not as saturated in Latin America, Europe, Asia or Africa.  Where inventories of older jets for sale might be pretty deep in the U.S., they are far less so in other regions of the world. Another bonus – if the new owner doesn't plan to fly in the U.S. in the future, they won't need to meet the ADS-B requirements.
Parts and components makers, and software and services providers will  certainly want to sell anywhere the planes are.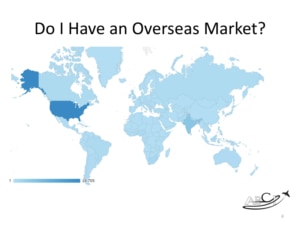 If you sell products or services in any of those categories, you might want to check your analytics to see if you already have an international audience on your web site!
If you use
Google Analytics,
simply browse to the Audience/Geo tab to see where your current website traffic is coming from.
If you find that you have a significant amount of traffic coming from a surprising location, you might consider what it would take to increase your marketing and sales efforts to that region.
The good news? It's not as difficult as it was even five years ago. Three tools we like to use for international campaigns:
Foreign language pages, a foreign language subdomain, or an entire foreign language site.
Search engine optimization on the local search engines and outlets.
Social media and digital advertising.
In this example, there is a pretty significant number of visitors from India and the Philippines.
Another interesting item is that those visitors are only spending 37-46 seconds on the site.  That would indicate that they're visiting but perhaps not understanding what they see, or not finding it immediately relevant or welcoming.
These countries might be good candidates for some targeted marketing, including foreign language pages and/0r specific content directed to them.
Questions to ask –
Do I want more customers from this country?
What will I need to provide to make that work?
Things you might need to provide could include –
Translated web pages
Hiring a salesperson that speaks that language
Accept/convert their currency
Attending an event in-country
Hiring a salesperson in-country
Other items?
Foreign Language Web Pages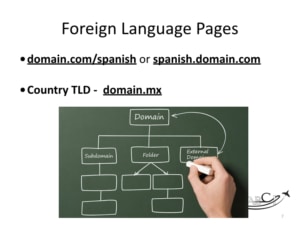 There are really three ways to deploy foreign language pages, each option has its pros and cons, so consider carefully –
A foreign language page (or two) summarizing your offerings and providing contact information in that language.
(i.e. mydomain.com/spanish)
A subdomain that can include several pages going into more detail.
(i.e. spanish.domain.com)
A foreign language site with a country-specific TLD (Top Level Domain)
(i.e. domain.mx)
International Search Engine Optimization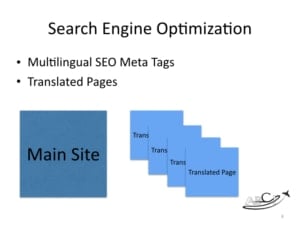 Just because you have foreign language pages, doesn't necessarily mean that they get listed on the foreign search engines! (If only it were that simple!)
We have to make sure the pages meet the technical rules for the meta data (invisible code on the site and pages) for the local search engines and preferred sharing and social media sites.
Social Media / Digital Advertising
Social Media and Digital Advertising have had profound advancements in the last couple of years, making them some of the most cost-effective ways to reach very specific  international customers.
Using the local social media favorites, plus some  familiar international platforms like Linkedin and Facebook, we can come up with a strategy for each country you want to do business in.
Summing it Up
Consider selling your product or service internationally, even if you may have tried it before with less than-satisfying results.  Some recent advances in the tools available for international aviation marketing make it a LOT easier, and a lot more cost-effective!
Let's talk – Find 30 minutes on my calendar and let's talk about your plans!
For more about International aviation marketing topics, see these:
Three Tools for International Aviation Marketing
International Aviation Marketing – Why, Where and How to Market Products & Services
GDPR – Three Ways to Make it Easier for Aviation Companies
Book Club Discussion – Brainsurfing the World's Best Marketing Strategists
Podcast: Play in new window | Download
Subscribe: Google Podcasts | Spotify | Amazon Music | RSS