Why host aviation events?
Mark Cuban says – "I don't bet on the company, or even on the idea – I bet on the person!" You get a much better feel for a person when you meet him or her "IN PERSON."
That's why events are so important as an opportunity to be in the same room with customers and prospects, especially when we have large-ticket, complex transactions.
[smart_track_player url="http://traffic.libsyn.com/aviationmarketing/AMHF_135_-_Aviation_Events.mp3″ background="default" ]
Events are a big deal in business to business (B2B) marketing, and in aviation marketing. This is no surprise- aviation is all about "getting there" so that you can be there in person, right?
There are many advantages to being physically present.  We find that it's much more fun and fulfilling to meet clients and future clients in person, rather than just over the phone or via videoconference.
Types of Events
There are many types of events prevalent in the aviation industry – almost any of which play a role in marketing and sales:
Conferences
Trade Shows
Airshows
Static Displays
Socials
Seminars
Roundtables
Summits
Hybrid Events  (Most aviation events involve two or more of the bullets above!)
Specific marketing events include
Product/Service Launch
Project Takeoff
Project Landing
Venues
These days, every venue has a physical venue AND a digital venue – and they both have similar considerations:
Physical Venue
Most traditional "event planning" involves the physical realities of the event.
Mailed Invitations/Advertising
Posters
Logistics
Aesthetics
Content
Parking
Food
Activities
Digital Venue
It pays to accomplish some tasks using a digital venue as well!  These can make it easier for organizers and participants to find the information they need and communicate about the event.
Social Media or Email invitations
Digital Advertising
Logistics
Aesthetics
Content
Landing Page
Social Media
Hashtags
One last thing – take lots of photos and video at your event (with permission, of course!)  And use them AFTER the event to promote your next one.
Download our Event Planning Checklist below!
Download our Aviation Marketing Event Planning Checklist!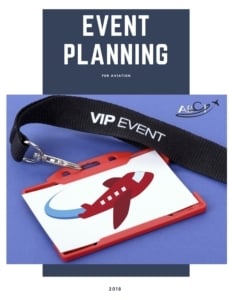 Let us know where to send your checklist!