I probably don't need to tell you that there are great reasons to post regularly on LinkedIn.
It makes it easier to get found when your prospect is searching "who do I know with this specific expertise?"
Busy decision makers check you out online (and most often on LinkedIn!) before they agree to meet with you.
LinkedIn is the most credible social media for aviation and B2B professionals.
So it pays to have some great (and recent!) content out there under your name!
But I'm going to let you in on a little secret:
Ever wonder how CEOs, VIPs and celebrities have time to post long, insightful posts on LinkedIn?
Answer – they don't!
Some of them may, but a lot of them have help from a company like ours.
If you're in the aviation industry, we can do this for you.
Here's how we do it.
We meet with clients once a month for an hour.
During that hour, we talk about:
What's new with your business, products and services
What's going on in the world and how it impacts your company
Questions and problems you get from customers and how you solve them.
From this conversation, we can write about twelve great LinkedIn posts, with a good hook, a couple of great points, and a conclusion or call to action that will get people talking or potentially get them to get in touch with you.
We send you a Word document that you can change or edit as you see fit, tailor any of the details to make it your own, and then just log into your personal LinkedIn profile and paste it in.
This is different from the marketing services we provide to aviation companies that are "on the record" or using their Company LinkedIn pages.
So, this secret has been around for decades and it's called Ghostwriting. They used to do Ghostwriting mostly for celebrities and other people writing their autobiography.
But ghostwriting for LinkedIn is also completely legit. It's YOUR words, written in YOUR style, and it's what YOU would have written if you had had the time to sit down and craft your thoughts into effective, structured posts.
Or maybe you're already posting on LinkedIn and just want to amp up your quality and consistency.
It's absolutely confidential, and in a Ghostwriting situation, no one will ever know that we're doing this for you. It can be part of a marketing agreement with a company (to ghostwrite for one or more of your primary salespeople and VIPs) or it can be a standalone agreement with an individual.
Ready to get started?  Call our office at 702-987-1679
Or find a convenient time on my calendar to discuss:   https://aviationbusinessconsultants.com/schedule-an-appointment/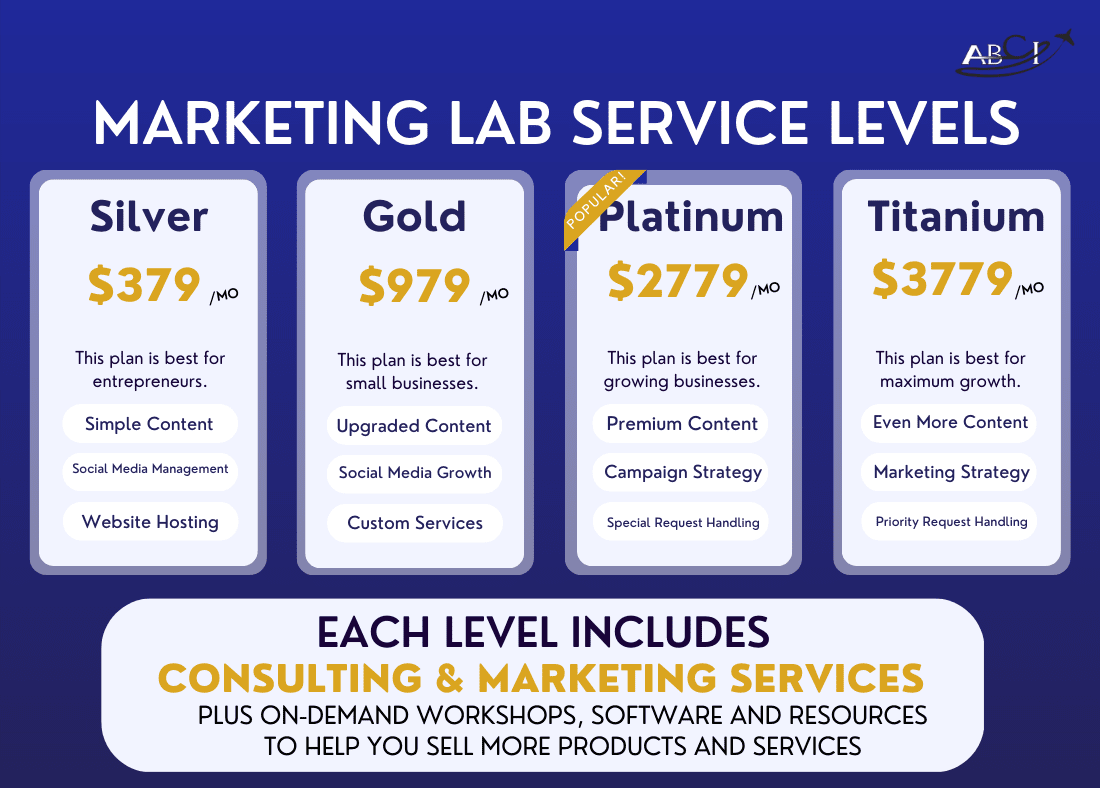 Aviation marketing, content, social media and custom services. No big agency retainer or long-term commitment.


We do ask for a six month "handshake" agreement, because we need to plan resources and reduce churn in the group.

That said, your satisfaction is ABSOLUTELY guaranteed.
Schedule a conversation at a time convenient for you, or call our office at 702-987-1679