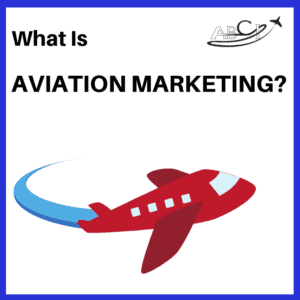 What is aviation marketing?
How is it different from other types of marketing, like retail, real estate, or automobiles?
There are three main differences:
A specialized vocabulary and culture
More complex transactions.
Longer sales cycles
A Specialized Vocabulary and Culture
Aviation marketing has some elements in common with other industries, like the luxury market, high-end products and services,
Aviation attracts people who love science, machinery, power and flight.  People involved with aviation have spent months or years in specialized training.  That training imparted a specific vocabulary and a culture of checklist-driven procedures.
The terms and habits have become ingrained in aviation industry professionals.  They apply them, not just when they're flying or maintaining aircraft, but even when they're making purchasing decisions.
More Complex Transactions
Aviation is a very specialized technical field with many factors affecting any given transaction.
Deciding which airplane, piece of equipment, product or service to buy depends on a dizzying array of factors including mission profile,operating environment, personnel and resources available!
Transactions tend to be more complex than in most other industries because they are affected by a complex set of regulations. In the United States, these are called FARs, or Federal Aviation Regulations set by the FAA, or Federal Aviation Administration.  Outside of the US, other regions our countries have similar regulatory bodies.
These regulations dictate who can purchase or operate aircraft under what conditions.
Other factors that complicate transactions include the size and number of people and entities involved with each transaction.
Longer Sales Cycles
All of this, plus large transaction size, means each transaction takes a long time to close.
The average we've seen among our clients is about eight months.  Longer for aircraft brokers, airport  building contractors and large equipment dealers.  Shorter for smaller and simpler products and services.
Aviation sales and marketing professionals can be more successful by establishing their authority, credibility and expertise markers. 
Sales and marketing pros also gain an advantage when they develop a library of content to educate and inform prospects a little at a time over the course of a long relationship.
Maintaining long-term relationships is key to profitability in the aviation industry, for these reasons and because second and subsequent transactions require a lot less trust-building and education.
ABCI is uniquely suited to aviation marketing.  Our services are listed here.
Schedule a complimentary 30 minute consultation – select any open time from our calendar, or call 702-987-1679 to schedule a convenient time.