What do you think of free or cheap website builders like Weebly, Wix, Squarespace and so on for aviation companies?
Smart business people aren't cheap, but they don't like investing good money in stuff they don't understand. I totally get that.
So why spend thousands (or even hundreds of thousands) of dollars on a website, when these website builders promise a great looking site for free or cheap?
We had a client that came to us after having spent $250,000 on a website that just didn't work. It was a beautiful website, but it was the same situation as if she had spent $250,000 on a paint job on an airplane that had no engine or wasn't airworthy. It's pretty crazy, but people don't know.
Having a great aviation website is not about how much you spend, or even what tools you use or how much you spend on your website, it's about whether or not it does its job.
So, what IS the job of an aviation website? It actually has three jobs:
1. Get found
2. Connect with the right people on the right level.
3. Make them Do Something!
To get found – this is like the Yellow Pages in the old days. You want to be sure your company is listed under the right category. If people look up the product or service that you offer and don't find you, then your website might as well not even exist! Here's a test for for how much traffic your website is getting,
To connect with the right people on the right level – people don't spend a lot of time on a website deciding whether or not this is a company they want to do business with. They're looking for images and language that let them know they're in the right place. So if your product or service is sold to DOMs, it's going to be something that they like to look at and it's going to be written in language that they use and it's going to give them the feeling that you understand them and understand their problems and can really help them. If this website is for affluent customers, it needs to be all about convenience and security and use language that they're comfortable with.

To make them do something – Most people are reluctant to pick up the phone or click a "buy" button if it's the first time they've come into contact with your company. So if you offer something that is low-cost and low-risk, but valuable, then you give them something to do that furthers the relationship. An area guide, a tip sheet, a checklist, etc.
So, to answer the question (the long way) it really doesn't matter what tools you use to build your site. What matters is that the website does its job.
Very few of the sites we've seen built with free or cheap tools do all three of those things. Most fail all three. But that's not the fault of the tools, that's the fault of not really understanding the technology, or spending the time required to write or create high-quality aviation website content.
We have a free tip sheet you can download that includes the questions you should ask your website provider to ensure you're investing your website money wisely.
We answer one question per week live on Facebook Live at 1:00 PM each Monday.
Ask a question – get a book!
Next week – We'll answer an anonymous question – "I mailed a thousand postcards and nothing happened!"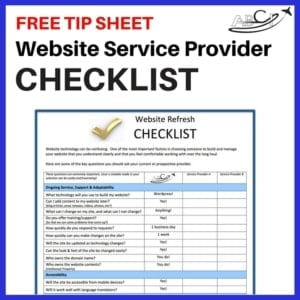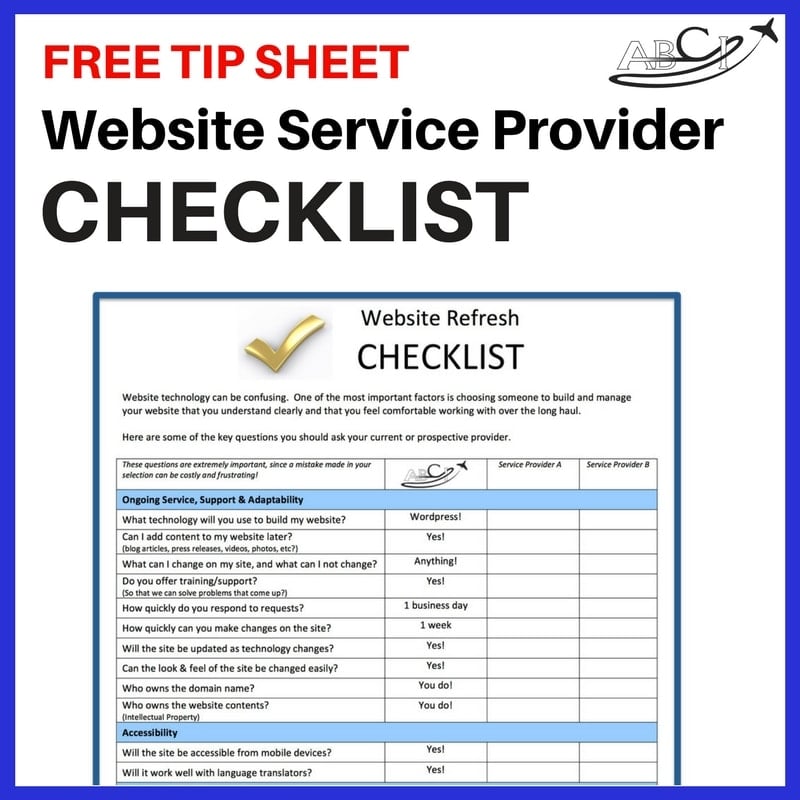 Want to evaluate your own website and/or service provider?
Download our Website Service Provider Checklist
Aviation Website Refresh Service
Other articles about Aviation Web Design:
ABCI Responsive Web Design Process
Aviation Website Not Attracting Customers
How to Get Attention on the Web
Best Aviation Websites for Marketing
Aviation Website Design – What Works?
Three Aviation Website Design Mistakes that Cost You Sales
Question of the Week – What Do You Think of the Free or Cheap Website Builders like Weebly, Wix for Aviation Websites?