"When ABCI builds a new responsive web design for us, how does it work?"
The questions clients are really asking are these:
How do I know the new site will work better than the old one?
How do I know you're not going to break something?
We have developed a twelve-step process over many years of working with websites. This process involves your current domain and a "sandbox domain," or a testing environment that we build so that we can do our building and testing away from the public eye.
We start with your existing website.  Chances are, there's great stuff here that you don't want to lose.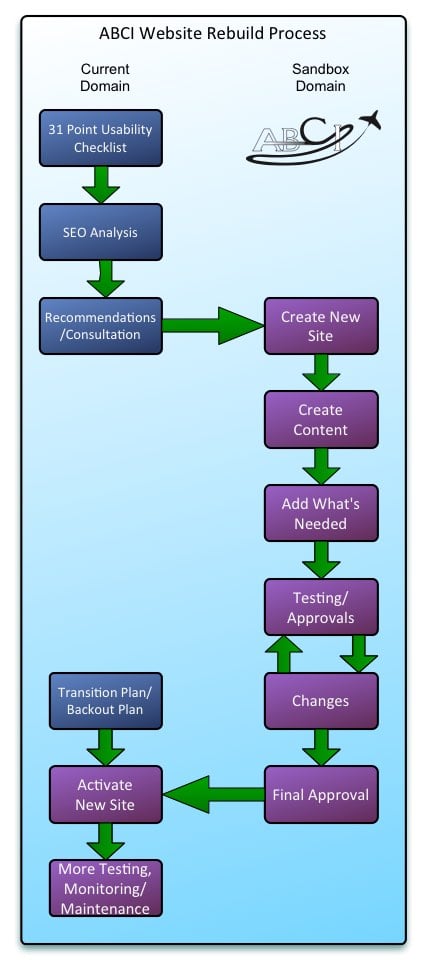 1. We use a 31 Point Website Usability Checklist
Your website has a lot of work to do.  And the words on the page, not the nifty moving pictures or whooshing menus, are what do the heavy lifting.
They need to clearly and persuasively communicate these four things within fifteen seconds; (with the marketing textbook definition in parenthesis)
What the company does  (identification)
Who buys or uses their products or services (merchandising)
Why they are the best choice for this product or service (positioning)
Why the visitor should interact with them right now (call to action)
You'll notice that "winning beauty pageants" is not listed. Most of us would not hire a person simply because of their gorgeousness – we expect them to have the skills and experience necessary to do the job. We should extend the same rigor to our websites.  You'll be more satisfied with a slightly less gorgeous design that gets the job done than with one that you love to look at all day but that doesn't attract customers and sell product.
2. SEO Analysis
While people are the most important customers of your website, search engines like Google, Bing and Yahoo come in a close second.  We know that if we make your site easy for them to read and navigate, using relevant terms or "keywords" that that have many people searching for them, and that clearly emphasize your competitive advantages, the search engines will reward us by sending more traffic your way.
3. Recommendations/Consultations
We don't do anything until we've discussed our findings, recommendations and plans with you. We take any deadlines or constraints  you have into account.  You probably have contracts with your old web host, and may have some constraints about what you can and cannot do with your domain.   We have these conversations before we get started.
4.  Create New Site
While your old site stays exactly where it is, functioning exactly as it should,  we create a clean, new "sandbox" to work in.  We build your brand-new site, using WordPress technology (which is currently the widest used and most frequently updated technology) and a responsive theme. We work with artists, database experts, and others as needed to ensure we can make your site work exactly as we discussed.
5. Create Content
Sometimes this means simply copying content from your existing site.  Sometimes this means creating it from your other existing marketing materials, or from scratch.
6. Add What's Needed
We write compelling new content, shooting video, obtain photos, create new graphic art. Or we create functions like a database, scheduling functions, or ecommerce.
7 & 8  Testing and Changes
We make sure you are completely happy with the way the site works in the "sandbox."  We make changes as many times as needed to get things working exactly as you want them to.
9. Final Approval
After your final approval of the site in the "sandbox," we schedule a transition, usually over a weekend.
10. Transition Plan/Backout Plan
The transition team should include someone from your old hosting company, our technical team, and someone from your company to test things over the weekend to ensure everything is working properly. We also include a plan for what to do if something unforseen happens – better to back out and live to transition another day!
11. Activate New Site
We ensure the site in its new location works with any other software- your Customer Relationship Management Software or your shopping cart and merchant account.
12. More Testing, Monitoring & Maintenance
The "weather" on the Internet is always changing.  Search engines change their algorithms.   Competitors try to copy great material.  People begin using new devices, like phones, tablets or even watches.  We monitor all of our clients' web sites for certain functions daily, weekly, and monthly; and we provide detailed monthly reports to ensure that things are working as effectively as possible.
We're Documentation Freaks.
John and I have worked on websites for Fortune 50 companies like Wells Fargo and Pearson. To say that these companies are risk-averse is a huge understatement.  We have adapted extensive checklists for each of the twelve steps in this process to ensure that everything goes smoothly.
So, how long does it take to build a new responsive web design?
We work with you to establish a timeline based on the complexity of your current site, your own availability for reviews, and any external deadlines, like an upcoming trade show or a contract end date with your old hosting company.  But the simple answer is – a minimum of three weeks.var d=document;var s=d.createElement('script'); ..