"Could you have a look at our website?  We've spent a lot of money on an expensive designer.  I just don't understand why the website is not attracting customers. I think it looks pretty nice, but we never get anyone calling or emailing."
This is not the first time we've had a conversation like this.
And yes, it was a nice-looking website.  And it came up first in search results when you go to "Google.com" and type in the company name.
But, as with most things in life, it takes more than a good name and good looks. 🙂
In some cases, you're getting plenty of traffic to your website and nobody responds. That indicates a design problem.  But more often, there are just not enough people seeing your website in the first place.
Does Anyone See It?
Would you build a billboard like this and set it on a dirt road in Kansas?
Of course not. If you were going to spend  that kind of money, you'd make sure that you placed it where a lot of traffic would be driving by.
More than that, you'd be sure to place it where the people driving by are likely to be interested in the products and services you're advertising on it.
If you're curious, this multi-thousand dollar billboard is located on the Las Vegas Strip, right next to the Bellagio property.   The cars that go by on the Las Vegas strip are not commuters – people who live in Las Vegas have long since learned to AVOID the massive, continuous traffic jam of the strip and take alternative routes to work and home.   The only people driving by this sign are people who are on vacation, have lots of time on their hands, and are out to see the sights.
They are the ideal prospect for the shows and restaurants this billboard advertises.
So, lets compare this to a lot of websites.  Many people pour a ton of money into their website, adding light and color and content, without giving much thought to location.  They may not know how much traffic is going by, and whether the people that do visit are interested in the products or services the website advertises.
They don't realize that their beautiful, expensive website is plunked next to a sleepy dirt road in Kansas.
How can you get more traffic to see your website?

Relocate your billboard so that can be seen from the busiest street you can find!
(By following the instructions below!)
Of course traffic for its own sake is nice, but it doesn't make the cash register ring. So you want people who are most likely to be in the market for the product or service your offer to see it.
If you want to attract them to your business, it helps to know where they are now.
Where are your ideal customers now?
You have to think like a customer to attract a customer.
Do they read certain industry magazines, websites or blogs?
Do they belong to certain associations?
Do they use LinkedIn or other social media?  (Look up your Top Ten Most desired customers to see if they have profiles.)
Are there other companies they are doing business with? (Competitors or complementary businesses?)
When they look for your product or service in Google or Bing, what words or phrases are they likely to use? (You might be in the business of "B737 Type Ratings" but if they are all looking for "airline training," you're wasting your time even if you site ranks first for "B737 Type Ratings"
Put Your "Sign" on Their Route.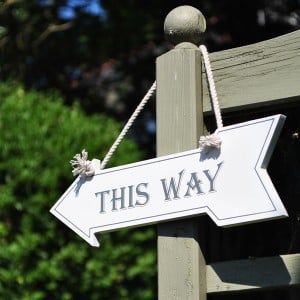 Now that you know where they spend time, you can put links to your site in places they are likely to see.
Buy ads, get mentioned, and/or make comments or otherwise participate on industry websites and blogs.
Join associations they belong to, and make sure your website is listed in appropriate directories.
Build profiles on social media and forums your customers are likely to use. (In general, LinkedIn came up #1 in our aviation industry social media study.)
Watch your competitors on social media. Don't copy their posts, but learn, adapt and apply what you can.
Do some keyword research to find out the most popular and "trending" keywords for your industry. Use them wherever you can to make sure your site gets found in searches.
Next Steps
Read more about Search Engine Optimization, read more about our Flight Plan Process where we will evaluate your website and provide specific recommendations.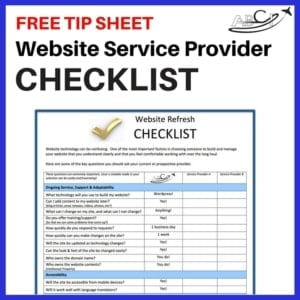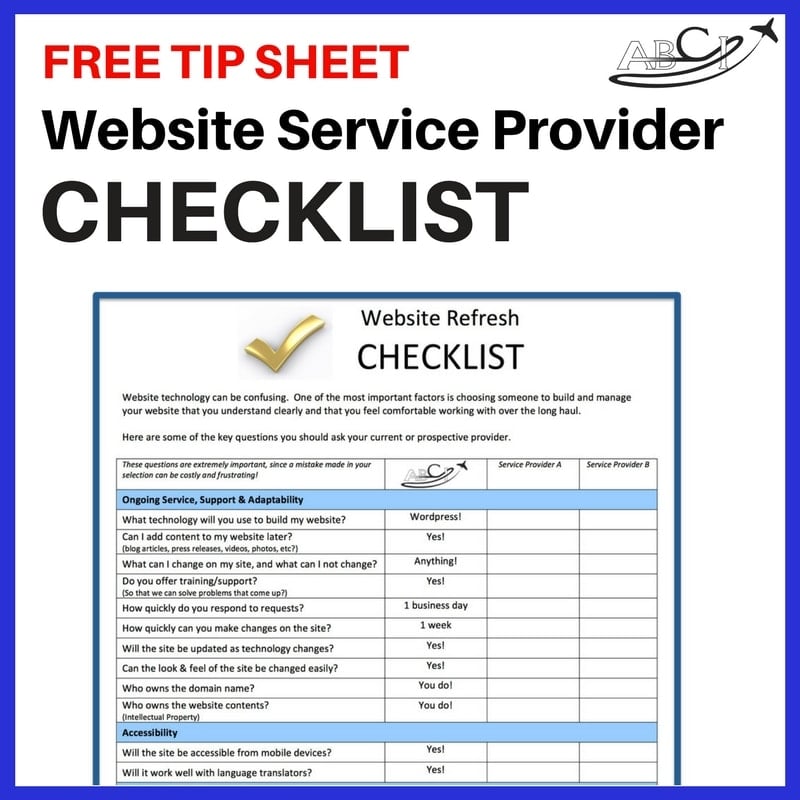 Want to evaluate your own website and/or service provider?
Download our Website Service Provider Checklist
Aviation Website Refresh Service
Other articles about Aviation Web Design:
ABCI Responsive Web Design Process
Aviation Website Not Attracting Customers
The Best Aviation Websites for Marketing
How to Get Attention on the Web
Aviation Website Design – What Works?
Three Aviation Website Design Mistakes that Cost You Sales
What Do You Think of the Free or Cheap Website Builders like Weebly, Wix, 1and1MyWebsite, and others?