Why are online reviews important for aviation companies?
Airline brokers, charter organizations, flight schools, consultants and other aviation companies are not like most retail companies.
We know that.
Most of us aren't doing as many transactions as the Starbucks down the street, but reviews are STILL important to us.
Online reviews help our customers  make the decision to choose us – because others did and are FIVE STARS happy they worked with us.
We've often said that things our customers say about us are MUCH more credible than things we say about our own company.  People are more likely to believe other customers!
But many of us are uneasy about asking for online reviews, and many of the people who we ask for reviews are excited to do it but aren't sure how, and get distracted before they get the job done.
Unless we really make it REALLY easy for them. . .
For example, don't just direct them to your Facebook page, direct them to the form for completing an online review – if you're a Facebook user,  try it here:
Leave us a review on Facebook here!
https://www.facebook.com/pg/marketingforaviation/reviews
And don't just direct them to your Google Local page, send them to the form to complete a review –
https://support.google.com/business/answer/7035772?hl=en
Here are five tips for helping customers write a review of Trip Advisor
https://www.tripadvisor.com/TripAdvisorInsights/w698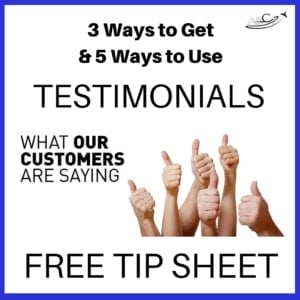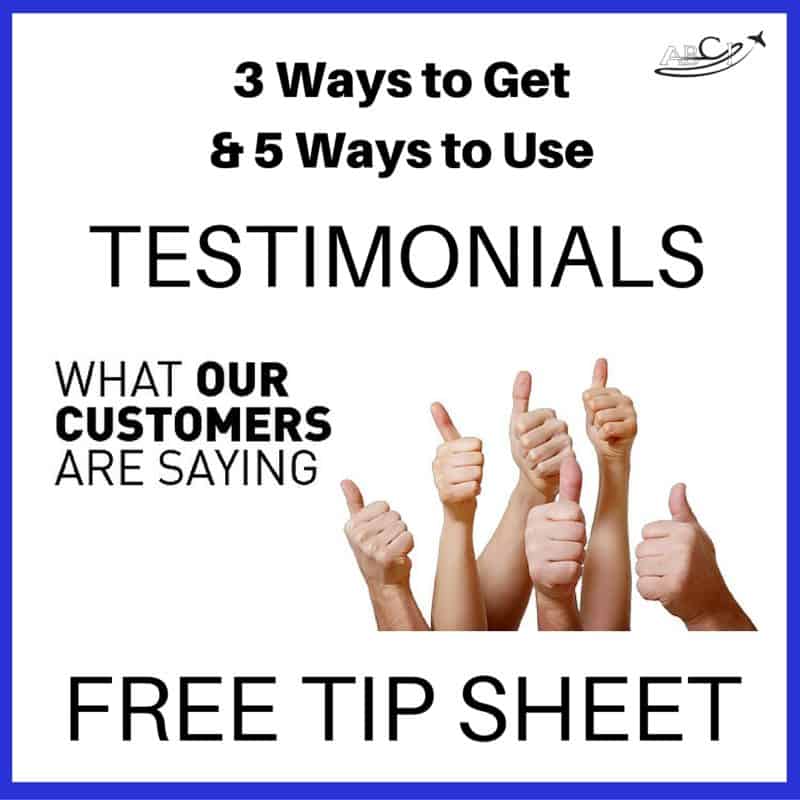 And these are just a starting place. Focus on one, two or three review sites – generally the ones that you use the most for marketing in other ways.
Also, you know how important testimonials are on your website and marketing materials as well.
Encouraging customers to provide them can be awkward or challenging for many reasons.
Download our Testimonials Tip Sheet at right.
You'll get three ways to get, and five ways to use testimonials in your marketing materials.
Need more help with your digital (and other) marketing strategies and tactics?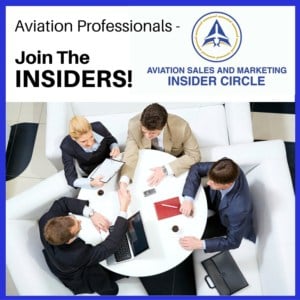 Schedule 30 minutes with us and let's talk about your marketing needs!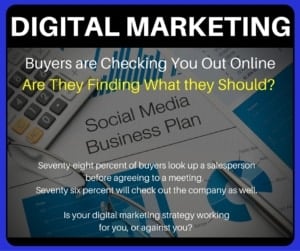 Did you know . . .ABCI offers Digital Marketing for Aviation companies?
Other Digital Marketing Topics
Aviation Digital Marketing Glossary
Aviation Digital Marketing – Please Enjoy Responsibly!
6 Prospecting Methods Using Aviation Digital Marketing
The Digital Citizen – Why You Should Hire One (Or Be One!)
A Quick Tip for Getting More Online Reviews!
#FollowFriday – Aviation Inbound Marketing & Sketchy Prospects
Podcast: Play in new window | Download
Subscribe: Google Podcasts | Spotify | Amazon Music | RSS