Update – August 2021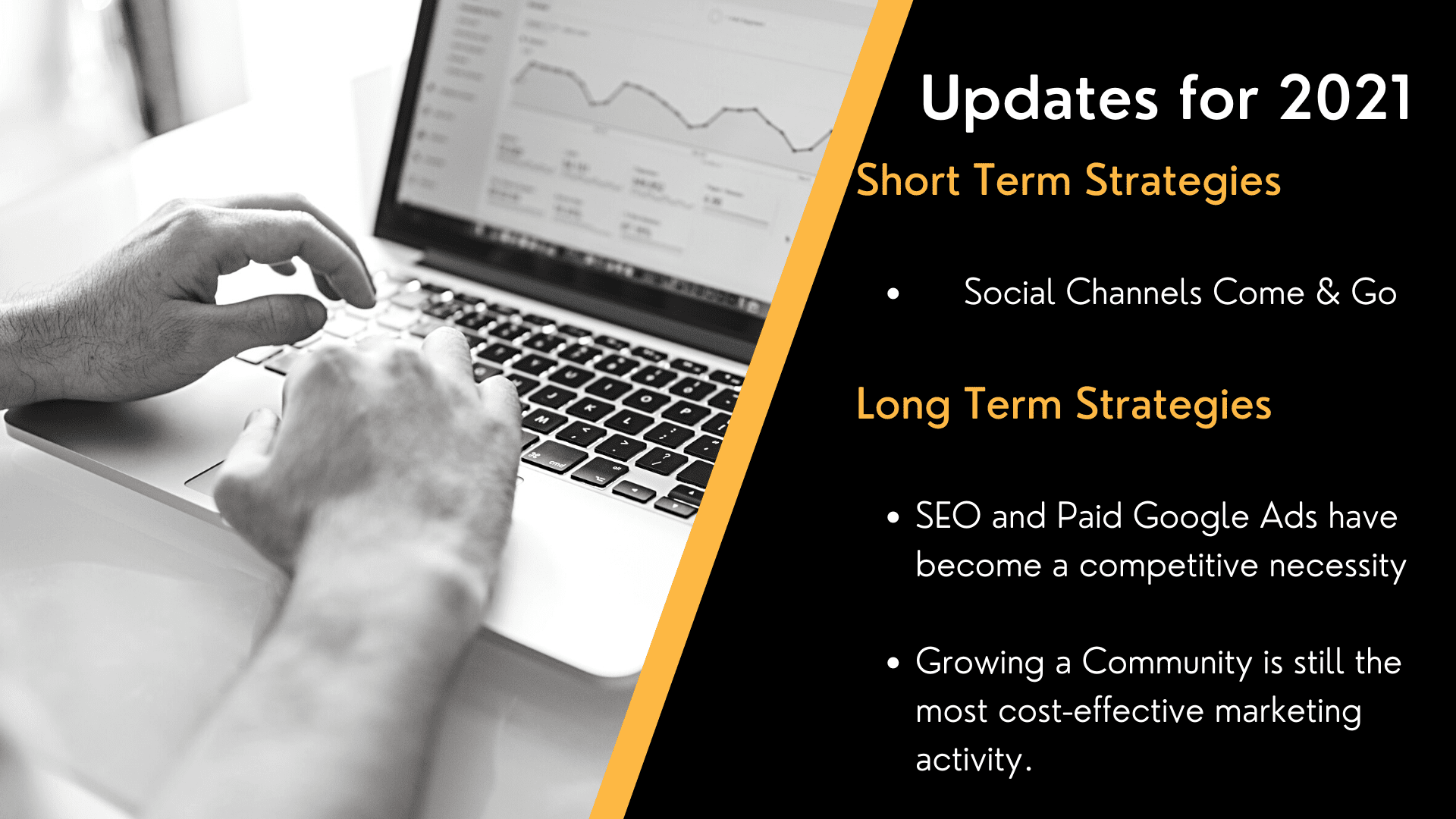 The biggest problem with Digital Marketing is also it's biggest strength – it's so easy to get your feet wet with digital marketing that people don't take the time to do the planning and strategy.
"Random Acts of Marketing" are expensive and dangerous.
Don't gamble with the rent money!
Any marketing effort that is going to succeed has a realistic objective, and a construction designed to accomplish that objective.  Just as any aircraft has a specific mission profile, every digital marketing tool has a specific  mission profile.
John and I talk about marketing objectives common in our business aviation marketing practice, and how to use digital marketing tools to accomplish those objectives.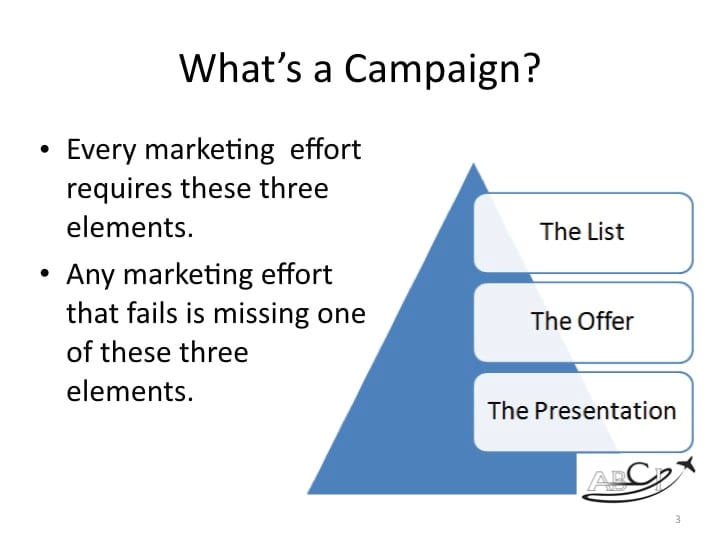 And
A List
An Offer and
A Presentation.
And the construction of the campaign depends a great deal on having a good (and appropriate) strategy.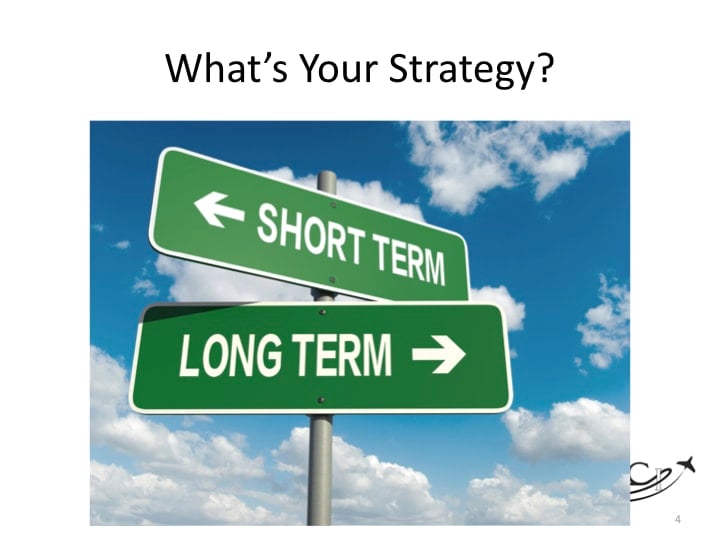 You can't accomplish BOTH short term and long-term objectives with the same campaign. (Or, if you have successfully done so, I'd love to hear from you.)
Short Term Objectives for Digital Marketing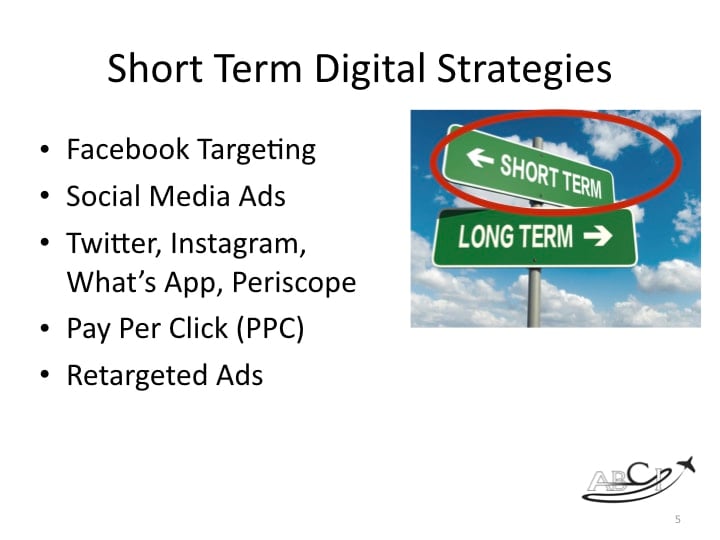 You might have a short-term, time sensitive objective.
Increasing the number of sales in the next 90 days to resolve a cash flow issue or unexpected expense
Selling seats at an event
Generating appointments and/or traffic at your booth at a trade show
Selling seats on an empty leg of an upcoming trip
Doing market research for a new product or new feature
If that's the case, tools you might consider are these.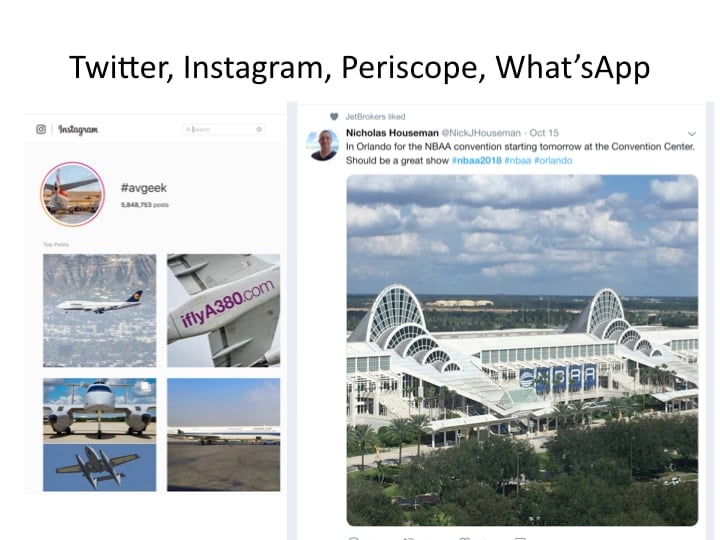 Facebook targeting
Other social media ads, including Twitter, Instagram, What's App, Periscope, Facebook Messenger, or any number of others
Google Adwords (Pay Per Click or PPC)
Retargeted ads using Adroll or Perfect Audience
These tools, like all others, have pros and cons –
Pros-
They're easy to use
They're quick to implement
They're VERY targeted and provide detailed
Cons –
It's just as easy to configure them incorrectly and lose a lot of money quickly.
They stop working the instant you stop paying for them.
They do very little to build brand awareness, loyalty or equity.
Long Term Objectives for Digital Marketing
Business aviation companies have many long-term objectives as well, and using digital marketing strategies can be even MORE effective.  Business aviation transactions are often large and complex by nature, so the most successful companies spend most of their time and resources on long-term objectives, such as
Building brand equity
Fostering long-term relationships between their key personnel and thought leaders in the industry
Building credibility by sharing good information
Providing a means to interact frequently, but in a low-key, non-salesy way
Tools  that can help with these objectives: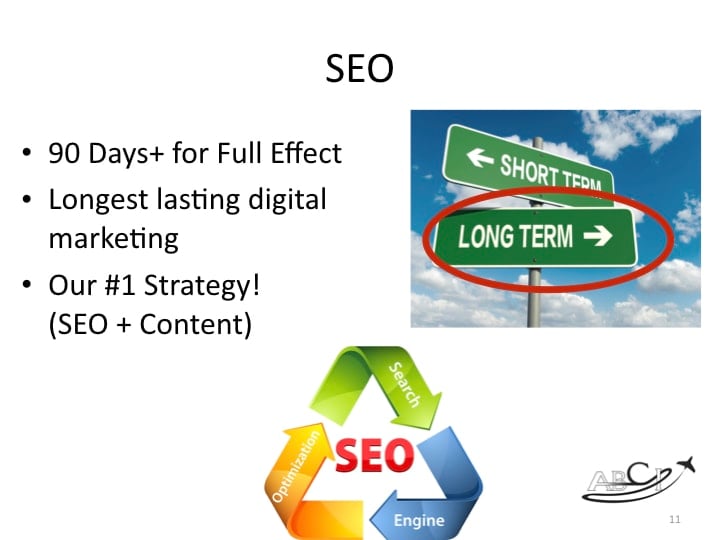 SEO  or Search Engine Optimization deserves a bit of a section on its own –
Optimized content, including this podcast, is our PRIMARY method of acquiring new customers.   The majority of our new customers over the last two years have found us using online searches that brought them to one of our articles, and then the reached out to us by phone, email or web form.
SEO does require a lot of work and patience.  Google changes its algorithms so frequently we highly recommend getting professional help with search engine optimization, unless you have time and skills for a very technical new hobby.  We attend webinars and conferences about SEO at least three times a year just to keep up.
What makes this long-term is that once content is optimized, it will continue to bring your customers for years.  We have articles from 2010 that are still attracting people interested in doing business with us.
Other means of building long-term relationships using digital marketing tools include:
Networking.   If you have a "top ten list" of people who you'd love to have as customers, stalking them on social media can be a very effective and non-creepy way to start a relationship if you do it correctly!
Individual and Personal Page Profiles on social media are also places people search for people they know that can help them solve their problems.  Each media has its own personality and set of standards – Facebook tends to be more personal but has higher numbers and better targeting. Twitter tends to attract media and association professionals.  LinkedIn is (mostly) all business.
Groups (LinkedIn and Facebook Groups) are great places to share you expertise and meet people.
The Secret of Digital Marketing – Use the Right Tool for the Job
Many digital marketing professionals  or enthusiasts will tell you that their particular favorite tool is a panacea.
This is just as foolish as an aficionado telling you that a particular airplane is "perfect."
Just as any aircraft has a specific mission profile, every digital marketing tool has a specific  mission profile.  If you'd like to talk about your current objectives and your digital marketing strategy, call us at Call Us at 702-987-1679  or pick a time from our calendar for a complimentary 30-minute consultation.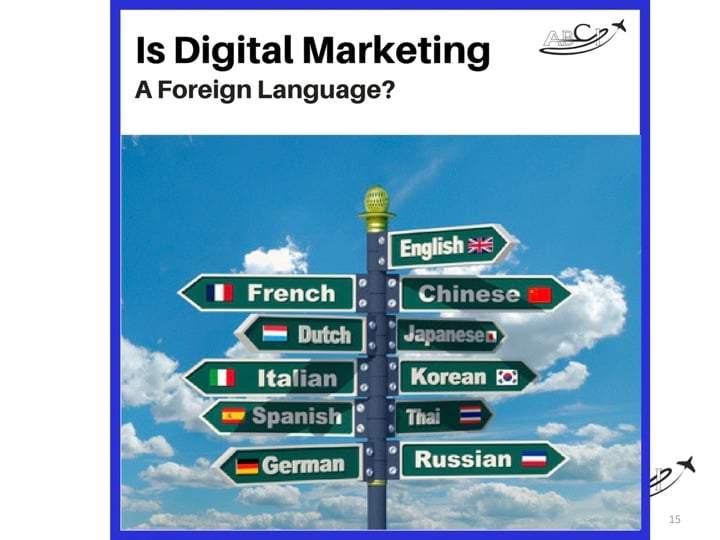 Did you know . . .ABCI offers Digital Marketing for Aviation companies?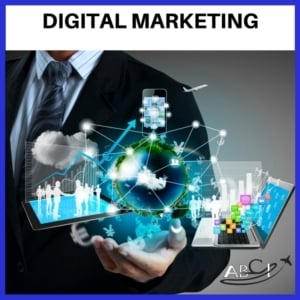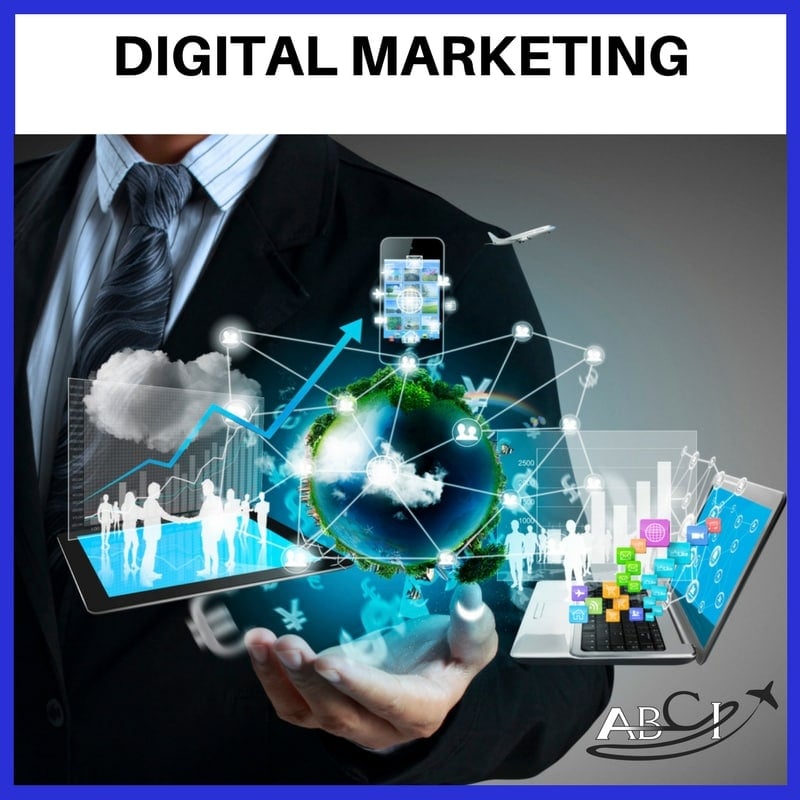 Other Digital Marketing Articles
 Aviation Digital Marketing – Please Enjoy Responsibly!
Aviation Digital Marketing Glossary
Aviation Digital Marketing – Please Enjoy Responsibly!
6 Prospecting Methods Using Aviation Digital Marketing
The Digital Citizen – Why You Should Hire One (Or Be One!)
A Quick Tip for Getting More Online Reviews!
#FollowFriday – Aviation Inbound Marketing & Sketchy Prospects
Podcast: Play in new window | Download
Subscribe: Google Podcasts | Spotify | Amazon Music | RSS